How does sending in transcripts work?
Your child's official transcripts are an important part in getting their education started with JMHS. These documents determine what classes your child may transfer credit into if they already have some high school experience. Alternatively, if they're starting their high school journey, transcripts from their middle school can prove that they're ready to work on high school level classes.
You'll have a few different options to send in your child's transcripts—but don't worry. We'll give you a rundown of each method so that you can determine which one is easiest for you.
1. The Transcript Request Form
Located in the student portal, this request form simplifies the process of requesting transcripts from your child's previous school.
Step 1: Once logged into the student portal, click on the Documents tab.
Step 2: Click on the Transcript Request Form link.
Step 3: Complete the form.
Step 4: Send the completed form to your child's previous school. (Email, mail, or fax)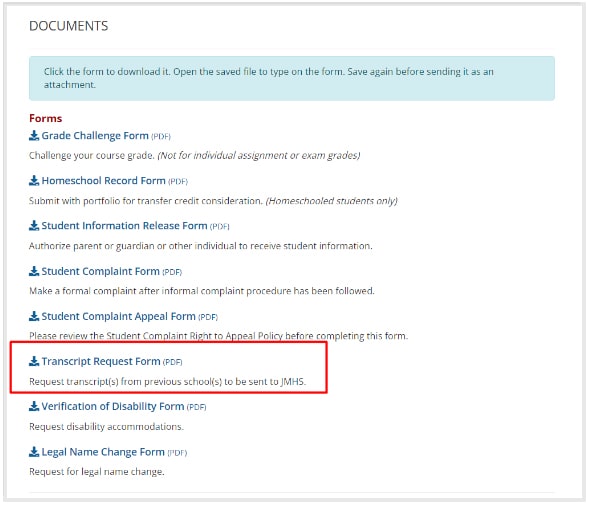 Pros: This process is super easy. The form contains all the information your child's previous school will need to send their transcripts to us, and our evaluators will have all the information they need to evaluate your child's transcripts. Because you're the one making contact with your child's school, you'll also know if the school needs any additional information.
Cons: While it's not often, some schools DO require additional information not listed on the form. If that's the case, our Student Service team can work with you and the school to provide what is missing.
2. You can mail in a sealed copy of the transcripts.
If you already have a sealed, up-to-date copy of your child's transcripts, you can send them in yourself. However, we definitely want to emphasize that these transcripts have been sealed by the school and have not yet been opened. In other words, if you or your child has at any time been able to read the transcripts, they are not official and will not be accepted. Once a transcript has been opened, they can no longer be classified as official, and you'll need to request a new copy of the transcripts.
Pros: If you have a tracking number when you send in the transcripts, you'll be able to determine exactly where they are in transit. This takes a lot out of the guessing game if your child's school has actually sent over the transcripts or not.
Cons: Mail is definitely the slowest way for our evaluators to receive official transcripts. While schools have the option to email or fax transcripts, these delivery methods are not possible otherwise. However, it still may be worth it to you if tracking the transcripts is important.
3. Contact Student Services to request the transcripts.
The Student Service team is one of your strongest resources while your child is attending JMHS. Not only can they help you or direct you to answers for most of your questions, they are also capable of sending out the Transcript Request Form for you. They'll need the name of the school and either the email or fax number in order to send the request out, so make sure you have them on hand to make the process as smooth as possible.
Pros: If you already have the school's contact information, this route takes all of the work out for you and your child in getting them set up to continue their education.
Cons: This option is only available if your child is under 18. Student Services is unable to directly request transcripts from the school if your child is not a minor. Due to processing times for both Student Services to prepare your child's documents, you may also have to wait slightly longer for these transcripts to clear than if you request them yourself with the Transcript Request Form.
How will I know if JMHS has received my child's transcripts or when they'll be fully evaluated?
One of the coolest parts about your child's student portal is that they'll be updated on what step in the process their transcripts are in. Once the transcripts have been received and added to the system, they'll be attached to your child's account and a status will display on the home page of their student portal. Here are the status phases for your transcripts:
RECEIVED: Congrats! Your child's transcripts have been added to the system, are associated with your child's account, and are in the queue for our high school evaluators to evaluate.
ACCEPTED: The transcripts have undergone their first step in the evaluation process: making sure that they're legit and official transcripts. This means that they're ready for the final step in the evaluation process.
EVALUATED: The final phase of the evaluation process is complete! Your child can confidently move on to their lessons knowing that any credits for classes that they may have received have been accounted for by their evaluator.
Curious to see which classes received credit? On the student portal home page, click on the name of their previous school in the Transcript box. This will redirect you to a page that lists the JMHS equivalent class that they no longer need to take.
Pro tip: Have a question about your child's evaluated transcripts? JMHS transcript evaluator, Brennan M. says, "Never be afraid to ask questions or reach out for help. That's what we're here for."
How do online classes work?
Your child's first two classes, Introduction to High School and Health, are available from the day that they enroll. Even if your child has already completed some high school, their Intro to High School class is going to cover important topics about their introduction to JMHS, like how to navigate around their student portal, how to take lessons, and other useful tips that will be crucial in beginning school with James Madison.
After their transcripts have been evaluated, the rest of their lessons will become available as well, but in order to access their lessons they must be completed in order. Your child is able to have two courses open at a time and can freely work between either course they prefer. To finish a course and move onto the next one, all exams and assignments within that course must be fully completed.
One great advantage of online school is that classes are available at any time day or night, any day of the week. This can be super useful if your child prefers working on their lessons at a particular time of day or has a busy schedule in which they need flexibility.
How can my child get help if they need it?
While the courses are available at any time, students' instructors do have set office hours which they can locate on their course home page. These office hours are optional but can be a huge help if your child needs a little extra assistance with their lessons. If the office hours don't work for your child, they can also set up appointments with an academic advisor through their course page as well for some more 1:1 attention.
What's the difference between a general diploma and a college prep diploma?
If your child likes being challenged academically or is planning on going to college after high school, a college prep diploma is a great way to help them get prepared. While both the general diploma and the college prep diploma meet national accreditation standards and follow common core curriculum for a solid education, a college prep diploma is the more academically rigorous option of the two.
Students in a college prep diploma will take more advanced English, Math, Social Studies, and Science classes, as well as be required to have at least 2 foreign language credits under their belt.
On the other hand, while a general high school diploma may not be as challenging, students will have more available electives to carve out their interests. This can be especially useful for students that are unsure of their career path after high school, so that their choice in electives can help them test the waters with courses that may seem interesting to them.
What is a Career Pathway High School Diploma?
A Career Pathway High School Diploma is a general high school diploma that helps prepare a student for a specific career path after high school. When the student graduates, they will receive a General High School Diploma and a Career Pathways Certificate to signify successful completion of their specialized job skills training course electives.
Students will have the option to choose between a focus in: Carpentry, Child Care, Electrical, Event Planning, Medical Billing and Coding, Medical Office Assisting, Pharmacy Assisting, Plumbing, Sterile Processing, and Veterinary Assisting.
Although these classes do not qualify for college credit, there are definitely benefits to a career pathway. They can give your child a basic foundation for a career path that they may be interested in. The Career Pathways Certificate may also help them stand out when seeking careers in that field.
Career Pathway High School Diplomas can only be completed with a general high school diploma and are not able to be taken with the college prep high school track. If your child is between the two options, it may be a good idea to create a pros and cons list. If you and your child are still having a hard time deciding, your Admissions Specialist or Student Services Advocate can help you make an informed decision on what may be best for your child.
How can my child connect with other learners?
The Student Community is a great way for students to chat openly in a discussion forum that only other JMHS learners have access to. The Community is broken down into different topics that range from life and school to hobbies and interests. Even if a topic that your child may be interested in doesn't have a dedicated space in the Community, students are encouraged to create topics themselves.
The Community is moderated by Shawn, our community manager here at James Madison. With a zero tolerance for bullying, Shawn ensures that all students in the Community are thriving in their own way without fear of harassment. A valuable resource to students, Shawn also helps point JMHS learners in the right direction if they need help.
"A lot of our students come from all facets of life and situations, ups and downs...most times the world gives you a lot of no's, so I just like to be that one person to give you the yes, you can do it. I think if you can actually do those things and be that one person, it's a trickle-down effect so once you leave the Student Community, you're going to actually take that on with you in the journey into your life."
  - Shawn B., JMHS Student Community Manager
Read more: 3 Ways Online High School Students Can Make Friends
How fast can my child finish James Madison?
One of the coolest parts about JMHS is that your child's education is totally in their control. Your child will be able to graduate once all of their courses have been passed and they have met all graduation requirements. This means that if your child is a quick learner and determined to complete their education, they can definitely graduate quicker than a traditional 4-year high school. This may also mean that if they need a little extra time to learn their material, they can work at a pace that works for them in order to achieve their highest potential.
NyJada B, a 2022 JMHS graduate is one of the many students that was able to fully take advantage of an education on her terms. "I never thought I was able to do it, yet here I am. I was able to graduate high school at the age of 16 and now I'm in college pursuing a psychology degree!"
Read more: How to Earn High School Credits Fast
Is a JMHS diploma legit?
James Madison High School is accredited by Cognia and the Distance Education Accrediting Commission. Cognia offers accreditation and certification, assessment, professional learning, and improvement services to institutions and other education providers. As a global nonprofit working in over 80 countries, Cognia serves 36,000 institutions, nearly 25 million students, and five million educators every day. Cognia is the parent organization of the North Central Association Commission on Accreditation and School Improvement (NCA CASI), Northwest Accreditation Commission (NWAC) and the Southern Association of Colleges and Schools Council on Accreditation and School Improvement (SACS CASI).
What is accreditation?
You may have come across this term before when researching high schools, but what does having accreditation even mean? According to the dictionary, the official definition of accreditation is "the act of certifying an educational institution or program as meeting all official formal requirements of academic excellence, facilities, curriculum, etc."
In other words, accreditation is when a third party signifies that an academic institution has met rigorous academic demands in order to ensure that an education is up to its high standards. While a national accreditation means that a school's education meets national standards, a regional accreditation will often exceed the standards of a national accreditation.
Accreditations signal to higher education institutions, employers, and military recruiters that your child's education is high-quality, legitimate, and holds merit.
Read more: What Does it Mean to Be an Accredited School?
Is a JMHS high school diploma accepted by colleges?
Yes, a James Madison High School Diploma is accepted by colleges. In fact, if you're wondering which colleges have accepted a JMHS diploma, you can view a list here.
If a school that your child is planning on attending isn't listed, don't panic. A quick call to their intended school's admissions department can clear up any uncertainty you may have and can help get your child on track to meet any admissions requirements.
Although many colleges have accepted a JMHS diploma in the past, that does not automatically guarantee your child is going to be accepted into their choice college. A combination of factors in college acceptance is considered when applying to a new school, such as high school grades, SAT/ACT scores, extracurricular activities, the competitiveness of their major, and additional information from a college's application.
To ensure your child has the best chances of making it into their dream school, encourage them to become a well-rounded individual and pursue their hobbies while maintaining good grades.
Read more: Who Accepts an Online High School Diploma From JMHS?
What is the age limit for James Madison?
Although the minimum age for students entering JMHS is 13, there is no limit on age to those that can attend. At James Madison High School, we believe education should be for everyone. So, whether your teenage child is ready to start their high school journey with us, or you or a loved one wants to commit to finishing your high school diploma, James Madison is an affordable option to earning an accredited diploma on your own terms.
Read more: High School Education with no Age Limits
Want to learn more about getting started? Reach out to an Admissions Specialist at for more information about earning a high school diploma with JMHS.