If you're thinking about JMHS and wondering: Where will my online high school diploma be accepted after I finish? Will my James Madison High School diploma help me get into college, start a new career, or prepare me to move up in my current job? Here's your answer.
What does accredited school mean?
An accredited school means that a school has been recognized by an accrediting institution as having met a certain level of educational standards.
Why is it important for a school to be accredited?
Accreditation is what marks your education as legitimate to institutions of higher learning, the military, and employers who require high school education. Your school being accredited is more than likely the most important factor when applying to colleges, joining the military, and jobs that require a high school education. No accreditation can often mean no entrance.
What does it mean if a school isn't accredited?
If a school is not accredited, it may mean that other institutions may not recognize your diploma. You may even need to go back to an accredited school and earn your diploma again or complete your high school equivalency through the GED before you're able to pursue goals with a diploma requirement.
What are the benefits of being an accredited school?
Attending an accredited school opens the door to opportunities that require a high school diploma. You can rest easy knowing your accredited high school diploma is legitimate.
Is James Madison High School legit?
Yes. James Madison High School is nationally accredited by both Cognia and the Distance Education Accrediting Commission (DEAC).
Cognia Accreditation is a designation of quality recognized around the world. It is awarded by three regional accrediting bodies: the North Central Association Commission on Accreditation and School Improvement (NCA CASI), the Northwest Accreditation Commission (NWAC), and the Southern Association of Colleges and Schools Council on Accreditation and School Improvement (SACS CASI). Together, these organizations have been accrediting institutions for more than 125 years.
James Madison has earned its national accreditation through the Distance Education Accrediting Commission, or DEAC, which ensures that online or correspondence courses are offering the same quality curriculum you'd get in a traditional brick and mortar high school.
Earning accreditation isn't a one-time deal for any school. In fact, all schools have to renew their accreditation after a few years, proving that the classes and materials being taught are up to date and actually helping students.
Besides marking a school as legitimate or not, having accreditation is helpful when taking your next step after graduation. Many colleges and universities only accept credits or work completed at accredited high schools.
Is James Madison a good school?
Yes! Besides being recognized and accredited nationally, JMHS has other ways it stands out as a good school.
The option to go for more rigorous college-geared courses through a college prep diploma track, more career-focused courses with a career pathway, or stick with the general diploma track totally customizes your high school experience. Between the tutoring options, instructor office hours, and Student Service assistance, you'll have all the academic help you will ever need!
Students like 2022 JMHS graduate Simone G. even made it into a nationally recognized honors society and has been succeeding ever since.
"I graduated with honors from James Madison High School. Upon graduation, I was invited to join, and am now a member of, the Georgia Alpha Chapter of the Delta Epsilon Tau National Honors Society. Since graduation, I have accepted admission to the University of Florida." – Simone G., 2022
Can I go to college with a James Madison High School diploma?
Colleges and universities consider many different criteria when deciding to accept a new student.
One of the first things admissions teams will look at is whether or not the high school you graduated from is appropriately accredited. Although an accredited high school diploma can help you take the next step toward a college degree, keep in mind the other things that can factor into a school's decision.
Besides making sure you actually graduated—or are on track to graduate—from an accredited high school like James Madison, schools consider:
Standardized test scores from exams like the SAT or ACT.

Your grade point average.

How rigorous the courses you took in high school were.

Your extracurriculars, hobbies, or volunteer hours.

School-specific requirements like admissions essays, interviews, etc.
While James Madison does hold national accreditation for our high school diploma program, it's always a good idea to check in with colleges you may want to attend in the future and verify that they'd accept your diploma. It's ultimately up to the college to determine what criteria they search for in applicants.
It's important to note that previous James Madison graduates have been accepted to and attended community colleges, technical schools, and universities around the country. The full list of colleges and schools that accept an online JMHS diploma range from state schools like the University of Tennessee to private colleges like Drexel University in Philadelphia.
JMHS 2022 Graduate of the Year, Fatih Ileez, was accepted into many top-tier four-year colleges and universities, including Villanova—where he even got offered a scholarship!
You can hear more of Fatih's story here.
Do employers accept James Madison on applications?
Yes. Because James Madison's online high school program is accredited and acknowledged by the US Department of Education, you shouldn't run into an issue verifying you graduated with a legit high school diploma.
However, like colleges and career schools, it's entirely up to the company to decide what they will and won't accept. While many employers only care that you've completed a diploma from a legitimate high school, whether online or at a traditional public school, some positions may be more competitive. This can involve looking into your grade point average and doing a background check.
What does a James Madison High School diploma look like?
A JMHS diploma looks like most other high school diplomas. It will include your name, the date you graduated, a signature from a school official, and say it's from James Madison High School.
---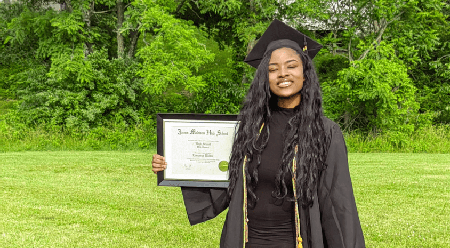 2022 graduate, Lassanya Walton shows off the high school diploma she earned from JMHS.
---
What if an employer or school questions whether or not my diploma is "real"?
Online schools are becoming more and more accepted, especially as busy lives and crowded traditional schools lead regular and adult students to earn their high school diploma online.
Just like in traditional high school, JMHS follows rules and regulations about education, curriculum, and verifies that the school is constantly improving through re-accreditation processes. If an employer or higher-education school doubts your school has the accreditation they look for, you can advise them to search for James Madison High School on the Department of Education website. They can also check out social media pages like our Facebook or Instagram to learn more about the students who came before you! to learn more about the students who came before you!
Earning a diploma from an online high school program can mean that you've gained new, valuable skills that will transfer into the next phase of your life including further education, your next career, and even daily living. Students that attend self-paced schools must be focused, self-motivated, and have good time management skills in order to make it to graduation. These skills may help you stand out amongst the crowd in a competitive job market or when applying to colleges!
Start your path to reach your goals with JMHS.
Now that you can be confident an online high school diploma with JMHS is legit, the next step is earning it. Are you ready to take ownership of your education? James Madison High School is an affordable, self-paced option that can help you do just that. Get started earning your diploma as early as today and enroll at jmhs.com or reach out to one of our dedicated and knowledgeable admissions specialists at 1-800-349-6861 for more information.