Does a high school diploma make a difference?
Earning a high school diploma can make a huge difference in your life. Here are just a few ways having one can positively affect you.
People with a high school diploma earn more on average.
That's right—people who have earned their high school diploma tend to make nearly $10,000 more per year than those without. After a decade of work, that's nearly $100,000 more earned than someone who wasn't able to finish high school. If you graduate and work toward a better job, this extra money can help those who are struggling to make ends meet to live a more comfortable lifestyle.
More job opportunities are available to those with high school diplomas.
Finding jobs during a recession is hard. By earning a high school diploma, you can open yourself up to more job opportunities. According to the Bureau of Labor Statistics, approximately more than 7 million job openings are projected each year for those with a high school education level. Even for careers that do not require high school diplomas, you may appear more competent to your employer with the increased level of education and raise your chances of being hired.
You may need a high school diploma to join the military.
With the number of benefits the military provides and its open recruitment, joining the military can be a good option in a recession's struggling economy. However, you may not be able to enter the military unless you have earned your high school diploma or its equivalent. While the US Army and Air Force allow for the GED, if you plan on becoming a Marine, you'll definitely need a diploma.
You can be an example to your kids.
If you're a parent, being a positive role model to your kids is one of the most rewarding parts of the job. Your dedication to earning your high school diploma may be what keeps your own children motivated to finish high school and accomplish some of their more challenging goals in life.
High school graduates are more likely to live a healthier life.
Leading a longer, healthier life is one of the best hidden advantages of having a high school diploma. If you're wondering how a diploma can affect your lifespan, luckily the CDC researched the connection between health and education:
"The more schooling people have the more money they earn, enabling them to purchase better housing in safer neighborhoods, healthier food, better medical care and health insurance, and more education; each of these factors is associated with improved health."
You can develop important life skills.
In your pursuit to earn your high school diploma, you can learn some important skills on the way. You may discover that not only will you learn the information in your course subjects, but you'll also develop crucial critical thinking skills. Being able to think critically will help you on the job as well as be a huge help in your everyday life. With self-paced education, you'll also learn how to study effectively, focus on tasks, and work through procrastination in order to make it to the finish line.
Can you go back to high school while working full-time?
Yes, it's possible to go back to high school and work full time! Online school offers flexible class and exam times so that you can manage your schoolwork around your work schedule.  James Madison High School's 2022 Graduate of the Year finalist, Fatih Illeez, took full advantage of the flexible online class times. Having immigrated from Turkey to the US, Fatih found that balancing public school and helping to support his father's businesses was difficult. After transferring to online school, a whole new world opened for Fatih:
"At James Madison, I was able to work in the morning and afternoon and then when I came home, I could just work on my schoolwork. You know, I'd be taking tests at 3 a.m. I could do whatever I wanted whenever I wanted—and that was just really liberating and awesome."

To hear Fatih's full story, check out his Graduate of the Year interview here
No matter what your work schedule looks like—whether it's morning, night, or changing at a moment's notice—online school makes it possible for learners to earn their high school diploma while still being able to pay the bills and support their lifestyle.
Does a high school diploma help you avoid unemployment?
A high school diploma can also open doors to additional education, which can help you be even more competitive in a tough job market. Those that have not yet earned their high school diploma have the highest instances of unemployment at 8%. On the other hand, high school diploma holders are only 6% likely to be unemployed. Of course, getting a job, or a better paying job is not guaranteed with a diploma alone.
Having earned a high school diploma can not only help you get a job, but it can also lead you to opportunities to earn more. High school diploma holders make on average $183 more per week than those without. This amount adds up big time—over the course of a year that averages to over $9,500 more earned!
Unemployment rates and earnings by educational attainment, 2021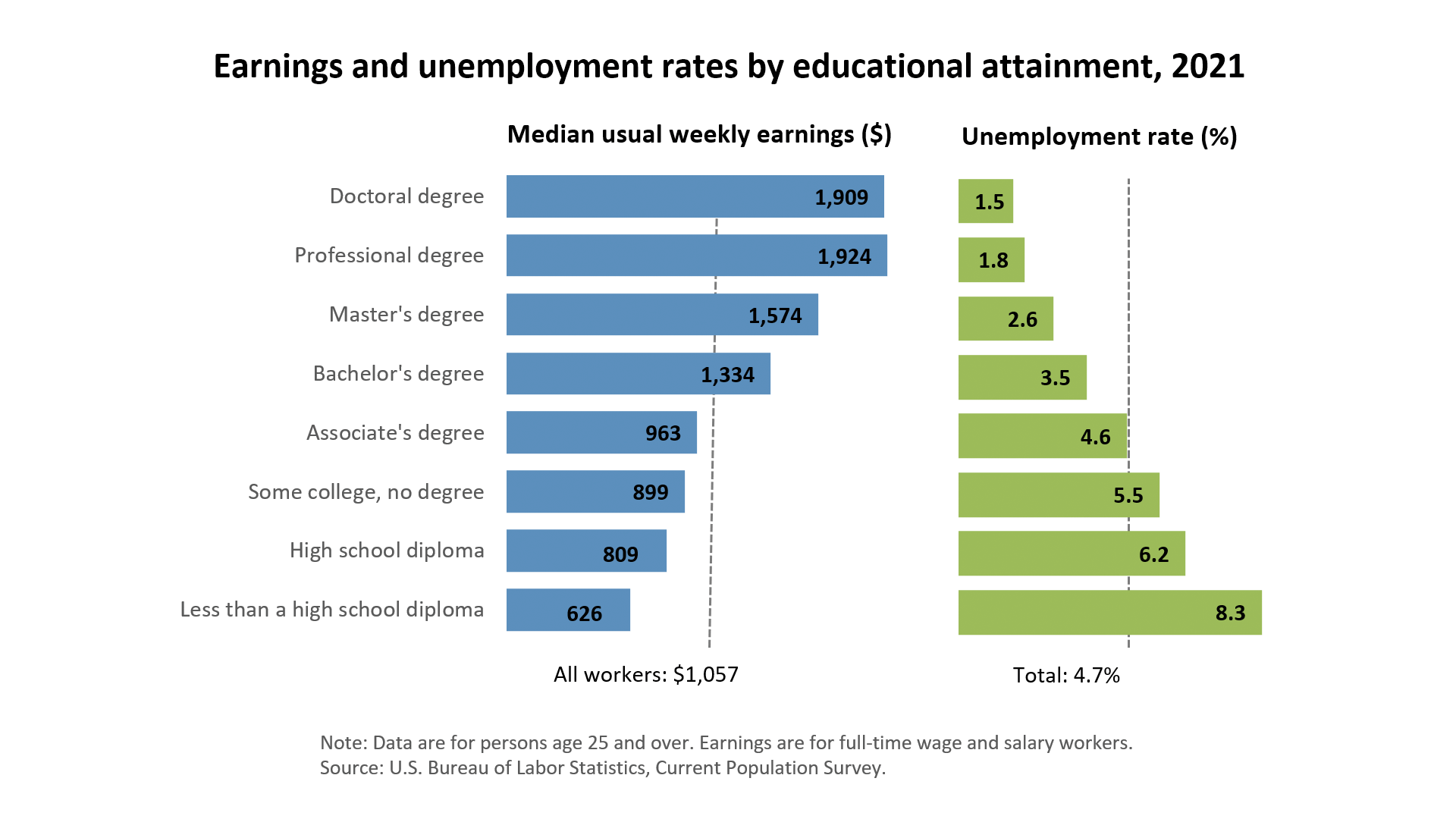 It's also worth noting that once you've earned your high school diploma, you'll be eligible for additional education. This can seriously help you pivot to a growing industry, or even become more competitive in a tough job market.
Should you go back to high school in a recession?
Ultimately, whether or not you go back to high school will always be a personal decision. You'll have to evaluate the pros and cons to see if it really is the right path you should take. Even if earning your high school diploma wasn't the best option for you in the past, it's never too late to go back. As an adult learner, you're not alone—32% of JMHS students surveyed who are working on earning their high school diplomas for the first time are over 35.
If finishing high school is something you may be looking into, here are some tips for picking out a high school diploma program that will work great for you:
Consider a career pathway diploma track.

A

career pathway

makes it possible to gain real job skills while you're working toward your high school diploma with no additional credit hours required. It's a great way to gain an idea of what you'll be doing for a career that interests you.

At James Madison High School, you'll have the option to choose between 10 pathways, which include electrical, medical billing and coding, pharmacy assisting, veterinary assisting, and more! Upon graduating with a career pathway, you'll receive a Career Pathways Certificate to signify successful completion of your specialized job skills training course elective.

Although further education may be required for your field, career pathways serve as solid foundational knowledge so that you can breeze through any future courses related to your pathway. It's a great noncommittal way to discover if a certain career path is worth pursuing without having to dedicate extra time and money to a field that you feel uncertain about.

Opt into a college prep diploma track if you're considering college after high school.

While a

college prep diploma

track isn't required for

getting into college

, it can certainly help prepare you.

Courses in the college prep track are more rigorous and can help to set you up for success in higher education. College prep courses also include more science and math courses like chemistry, biology, and calculus, as well as include foreign language credits to help fulfill some prerequisites some colleges or degree programs may have. Not to mention, it can seriously help you stand out on your college application.

Even if you're not anticipating college after high school, a

college prep diploma

can help challenge you and help you develop critical thinking skills that can carry into any job.

Commit to earning your high school diploma.
Going back to school isn't easy. You'll have to do schoolwork on top of commitments you may have like working your job and attending to your family. You'll need to develop skills to stay organized so that you can fully manage all your priorities as well as making progress to your end goal.




If you're willing to commit to earning your high school diploma online, we're here to help you meet your goals. James Madison High School is an affordable, accredited online high school without age limits. Be in control of your education with no set class times or due dates. If you're interested in taking the first steps to earn your high school diploma, you can enroll now at JMHS.com or reach out to an Admissions Specialist to learn more.