Can you finish your high school diploma online?
Yes. Now, more than ever, finishing your high school diploma online is possible!
The popularity of online school is increasing due to technology being accessible to more people than ever before. With the advantages of no set class times or due dates, and the ability to take your lessons wherever you have access to the internet, online school gives you the freedom and flexibility to own your education.
Even if you've had your start in a traditional school, it's not too late to transfer your credits from your previous school to online school. Transfer credits are a way to ensure the progress you've made in your high school education is counted from one school to the next. At JMHS, the process is as simple as giving your previous school a transcript request form. The form will have all the information that your previous school and JMHS need in order to send your transcripts over and award you the credit you've earned.
Read more: How Do High School Transfer Credits Work
Can I get my GED online?
While you can study for your GED online in any state, some states do not allow you to take the test online.
South Carolina and New York state are two of the states that do not allow you to take the GED test online. Additionally, some states such as Connecticut, Pennsylvania, and Washington D.C. require approval processes in order to take the exam online. After studying for your GED test, whether online or in person, you may need to go to a testing center to take your exam depending on your state and its rules regarding the GED.
While high school diplomas and GEDs both show that you have a high school-level knowledge, a high school diploma can offer you new skills, give you more access to financial aid for college, and even help you earn more than a GED.
However, if you're prepared to take your GED, it can be a faster process to show you've earned a high school-level education. You can worry less about spending time on mastering many subjects, as the GED test only focuses on 4, rather than the wide array you may have to take in high school. You'll also only need to worry about one large test instead of many smaller tests in order to reach your goal.
Read more: High School Diploma vs GED
Do employers accept JMHS high school diplomas?
Yes! Employers don't care if your high school diploma was earned online or not and will often not even know. What they will care about is if you have an accredited high school diploma. Accreditation is essentially what makes your high school diploma hold value.
An accredited school has met the standards and requirements as defined by that school's accrediting organization. Because JMHS is nationally accredited by the Distance Education Accrediting Commission (DEAC) it means that JMHS upholds the national requirements for a high school education. The DEAC routinely checks JMHS's educational practices to award this accreditation, so you can rest assured knowing that JMHS is legit.
Read more: What does it mean to be an accredited school?
Do colleges accept JMHS high school diplomas?
Yes! Colleges do accept JMHS high school diplomas.
Colleges, like employers, are looking for the same thing in an online high school education: accreditation. Accreditation is what shows your potential college that your high school diploma meets educational standards.
JMHS holds national accreditation through the DEAC which validates to higher educational institutions that your online high school diploma meets national standards and is a legit diploma.
An accredited diploma does not guarantee entry to a college, but it does get your foot through the door. And you can definitely use your online high school diploma to your advantage. With online school, you've developed skills like self-guided education, independence, self-motivation, and commitment to your goal. Including these skills, along with any extracurricular activities, hobbies, volunteer opportunities, and any work experience you may have can definitely help you stand out in college applications.
Read more: Is a JMHS Diploma accepted at all colleges?
How can I get a high school diploma fast?
If you're looking to get your high school diploma online fast, then JMHS can help you own that goal. JMHS is entirely self-paced, meaning you control the rate at which you learn and progress through your courses.
With an open admission policy, you don't have to wait for a new school year to start learning a new course. If you're transferring in the middle of a typical semester, you don't have to worry about being lost on the lessons, as you'll be able to start from the beginning.
JMHS's online school also enables you to take courses throughout the summer (but only if you want!) in order to speed up the process of earning your high school diploma. You'll still have access to all of your lessons, learning resources, tutoring options, and everything else you would normally have during a typical school year. Even if you want to speed up the rate of your current high school education, JMHS offers individual courses so that you can get ahead in credits while earning your high school diploma.
Read more: How to earn high school credits fast
How much does it cost to get a high school diploma from JHMS?
At JMHS, we pride ourselves on being an affordable option for earning your high school diploma online.
While JMHS always has different offers going on, you can view the current tuition cost on our website. You'll be able to access different discounts for paying in full versus monthly payments. If you choose to opt into monthly payments and you can pay as low as $55 per month, keeping the cost your education low and affordable. Even signing up and staying with autopay can save you money on your high school diploma.
Your tuition not only includes your courses, but the cost of your textbooks, tutoring help, and study materials. You may even receive a discount based on how many previously earned credits you're able to transfer into the program.
Read more: How Does JMHS Tuition Work?
How long does online school take a day?
Online school can take as much time or as little time as you need it to. Some days may be busier than others, while other days you may have a whole day that you can dedicate to school.
To start off, 3 hours of uninterrupted time dedicated to your lessons may help you get a better idea of how quickly you progress through your lessons. Once you're more used to online school and how it works, you can adjust this time as needed. If your goal is to finish high school ASAP, you may want to dedicate more study hours into your daily routine than you would otherwise.
If you need a little more direction in starting your day, you can use this sample schedule as a jumping off point and make modifications that truly fit your learning style as you see fit.
Read more: A Day in the Life of Online High School Students (With Sample Schedules)
How to get a copy of your high school diploma online?
Once you have passed all of your courses and met all graduation requirements, your diploma will be automatically mailed to you!
Maybe you need your high school diploma ASAP and can't wait for it to be mailed. No problem. Once you've fulfilled all of your requirements and your student portal reflects that you have graduated, you can order an online copy of your diploma or transcripts through Parchment. You'll be able to access this link through your student portal, and once ordered, can be sent digitally in just a few minutes!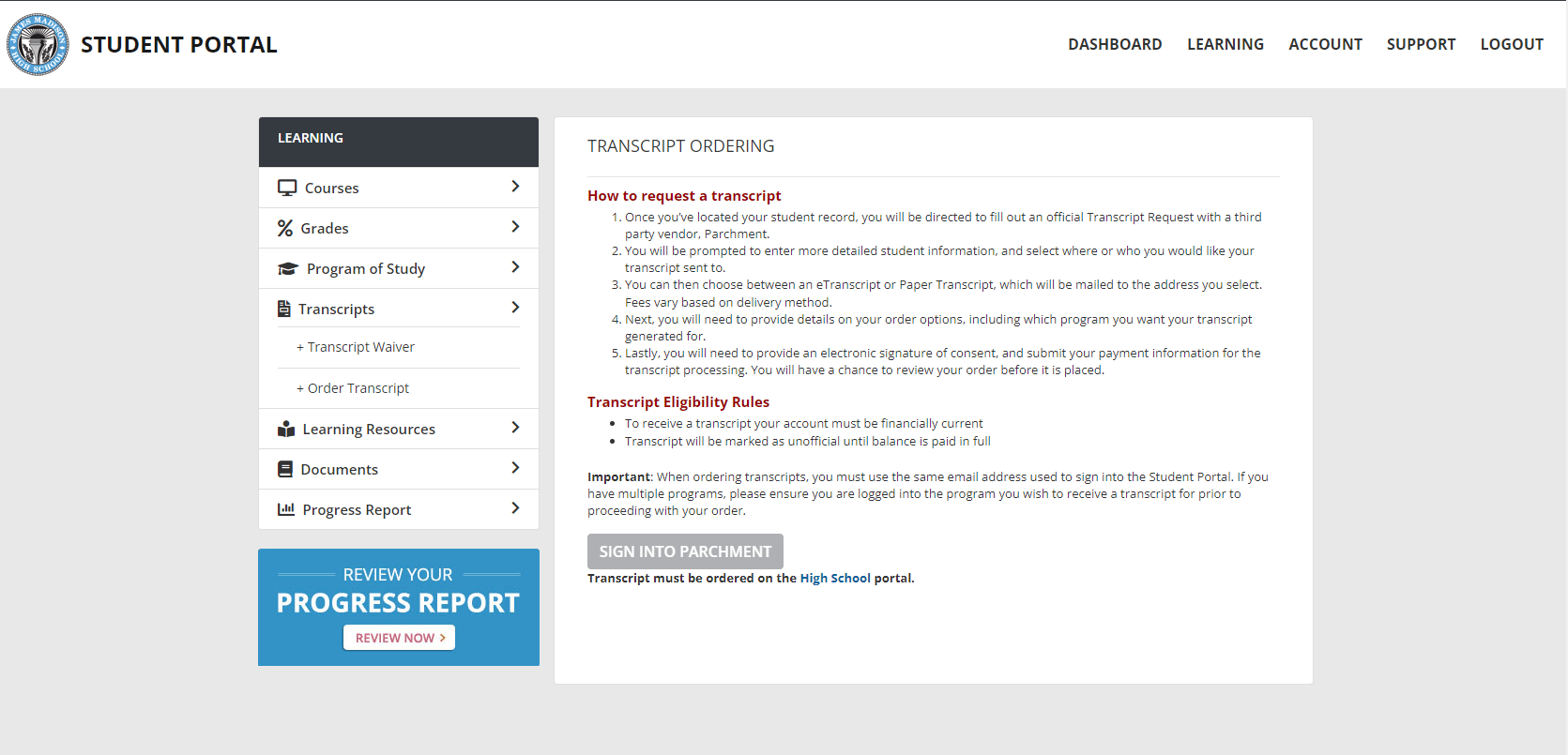 How online school can help you focus
If you're someone that has trouble paying attention in a traditional school environment, online high school can help make a difference in your ability to focus.
Because online school goes wherever you go, you can trade in the chaotic environment of classroom distractions and high school bullies to a peaceful, comforting environment where you learn best.
Not only where, but when you learn, can have a huge influence on your ability to focus. If you're a night owl that can't concentrate during the early hours of a traditional high school schedule, you may see a big improvement in your focus if you shift your study schedule. When you're able to learn when you're feeling your best, it'll also help you retain more information that you would have otherwise, making your learning experience more efficient in the long run.
Read more: 7 Ways Online High School Can Help You Focus
Should you go back for your high school diploma during a recession?
Recessions are tough and making the decision to go back for your high school diploma while balancing everything else you need to do to keep your head above water isn't easy. However, earning your high school diploma can help make a huge difference in your life—for the better.
High school diploma owners make on average nearly $10,000 more than those than have not yet earned one. Whether it's through raises and promotions in their current job, or being able to access better paying careers or military opportunities, those with high school diplomas have a serious advantage in bad economic conditions.
Having earned a high school diploma helps set you up for a better life, regardless of what's happening in the economy. Studies have shown ties that have shown those that earned a high school diploma are more likely to live a healthier life.
While a recession is not forever, the opportunities available, the skills you've learned, and the example you've set for your children from finishing high school will last for the rest of your life.
Read more: Is It a Good Idea to Go Back to High School During a Recession?
What are the pros and cons of online high school?
While online high school has many advantages, it has its disadvantages, too, and may not be for everyone. You may be wondering if online school is right for you, and while that's something only you can answer, we're here to help you make an informed decision on your path to your diploma.
Pros: In online high school you can learn on your schedule, study in an environment that works for you, and graduate quicker than traditional school. With no age limits, you'll also have the opportunity to complete high school whether you're a teen or an adult.
Not to mention other bonuses like getting more sleep and developing valuable independence and time management skills that can be a serious help to you in college or your next career.
Cons: Just as you can graduate quicker, being self-paced means that earning your diploma may take longer as well. Being in the comfort of your own home may mean more distractions available like tv, video games, and open access to TikTok and Instagram. And while tutoring and assistance is available, it will require you to seek it out by setting up a tutoring appointment rather than just raising your hand.
It's important to realize what your obstacles may be and how you might overcome those challenges before committing to online school. However, if you're able to overcome them, it may be a total win for you to be able to own your education
Read more: Pros and Cons of Online High School
How to stay motivated in online school
Staying motivated is easier said than done. Although you have a goal, the long path to reach your destination may throw you off.
When trying to stay motivated in online school (or for anything else for that matter), here's three things to remember:
Set goals for yourself.

Creating one large goal with no time-reference can be overwhelming to the point where you lose all focus. Setting smaller, realistic, time-bound goals for yourself can help keep you on track to accomplish even the largest of achievements.

Thinking about finishing your high school diploma with so many courses until graduation can make thinking about earning your diploma feel out of reach. But if you think about conquering one course per month, it can make reaching your larger goals feel so much more manageable. From here set forth how many lessons you'll need to complete in a week to make this happen, and how much time you'll need to dedicate to each lesson.

Don't forget to give yourself a little reward for hitting the smaller goals, and larger rewards for larger achievements.

Identify, understand, and overcome your challenges.

We all have our individual challenges that hold us back but identifying and understanding them can help us overcome them.

It may be a good idea to write a list of challenges you experience or that you're anxious about. Next to them, write when or why you experience them. Then finally, write what you can do to overcome those challenges.

Taking your challenges head on and figuring out ways to go beyond them will open up the ways to previously closed off roads for you.

Believe in your potential.

You are your own best motivator, so it's best to believe in yourself! You've accomplished so much already and you're going to accomplish so much more. Keep your eyes on the horizon and keep going until you reach every goal that you set for yourself.
Read more: 3 Tips to Help You Stay Motivated in Online School
How to choose the right high school for you
When looking for high schools, being an accredited school is the most important thing to look for. Accreditation is what marks a school as legitimate, and grants you access to seeking further education through college, joining the military, and accessing certain job opportunities. If your school is nationally accredited, it means that the school meets the rigorous requirements set by the US Department of Education and was issued under routine inspection of the accrediting agency.
Other important factors to review are how much a school costs, what educational resources are available, and what tutoring services are offered.
Keeping in mind what perks they offer can help you finalize your decision. Consider if you'd like the option to graduate early, if you'll have access to advanced classes or honors recognition, and what your schedule for class is: set versus flexible.
While the decision is totally up to you, asking yourself (and the admissions specialist) these questions can help you make a well-formed decision in choosing the best fit high school for you.
Read more: How to Choose a High School
How to choose a career after high school
With so many jobs available, it can feel overwhelming in making a decision for yourself without knowing the right questions to ask. While only you can decide on the right career for yourself after high school, we're here to help guide you in the process.
To start off, it may be a good idea to make a list of some of your top career choices. Look up the educational and certification requirements, workplace settings, routine tasks and responsibilities and salaries for these jobs. Checking out the Bureau of Labor Statistics's website can help you get a good start in understanding a lot of these factors.
Now ask yourself these questions:
How much do I want to work with other people?

Do I enjoy working hands-on, or would I prefer working at a computer?

Am I willing to continue my education?

Does it pay well enough to fit into my lifestyle?
While these can help narrow down your choices, if you still have no clue what you want to do, it may be best to expand your search. Consider:
What did job did I want to have when I was younger?

What are my favorite hobbies?

What subjects did I enjoy most in school?

Which careers just seem cool?
While someone who's hands-on and loves animals may consider following their passions by becoming a vet tech, a paralegal may be a better career opportunity for someone who enjoys deskwork, organization, and is seeking higher pay.
Read more: How to Choose a Career After High School
How gifted students can benefit from online high school
Gifted students can access many unique benefits in online high school that they wouldn't have the opportunity to in a traditional high school.
Unlike traditional school, gifted students will be able to learn at their own pace, and finally not be held back by other students not on the same level. Moving at a pace that works for them can help gain independence and develop time-management skills, while also avoiding boredom.
The National Association for Gifted Children reported that, "Gifted students may become bored or frustrated in an unchallenging classroom situation causing them to lose interest, learn bad study habits, or distrust the school environment." The ability for gifted students to progress on their own can help curb these issues and boost grades in under-challenged students.
As they excel through their lessons, gifted students may even graduate faster than they would have in traditional school. Students aren't bound by semester length or class times, so when they complete a class, they can confidently move to the next until they complete their full education. Once graduated, they may move on to more exciting and challenging opportunities such as furthering their education through college, beginning a career, or pursuing other interests before they're ready to move on to whatever's next.
At JMHS, they'll still be able to access advanced and challenging courses through the college prep diploma track. Even while online, they'll be able to learn Biology, Calculus, and Physics while also in more rigorous English and History courses than the general diploma.
Read more: 5 Ways Gifted Students Can Benefit From Online High School
How online high school students can make friends
In school settings aren't the only place you can make new friends. Even while in online high school, there are opportunities for you to meet new people—just in different ways.
Participating in non-academic activities can be a great start to making new friendships locally. Whether you plan on playing sports, taking fun classes, volunteering, or meeting new people through a part-time job, there's so many opportunities to interact with others.
Connecting with others online through the Student Community is another great place to meet other JMHS students from around the world. The JMHS Student Community is a moderated message board committed to a zero-bullying policy, where you can discuss school, life, or hobbies in the many topics available. If your interest isn't already there, you can own your experience by adding it and creating a new home to socialize with others about a topic you're passionate about.
Read more: 3 Ways Online High School Students Can Make Friends
Own your education with JMHS
If you're ready to take the steering wheel on your high school education, JMHS is here to help you do just that. Experience no set class times, no due dates, and start discovering the way you were meant to learn and succeed through your own accord. Ready to get started? You can enroll online today at jmhs.com or reach out to an admissions specialist at 1-800-349-6861 for more information today.