Is online homeschooling right for you? Sure, hanging out in your pajamas with your four-legged friend by your side sounds ideal--and it can be--but work, discipline, and self-motivation also come into play. Homeschooling online isn't for everyone, but it's becoming an increasingly popular option for everyone from athletes who need to travel to families with demanding schedules to students who do well academically but suffer in traditional school settings from low self-esteem or bullying.
For some, a traditional high school setting is ideal; however, for others, getting their high school diploma online is well-suited for how they learn, work, and study.
Are you someone who would thrive in an online homeschooling program? Take this quick 9 question quiz to find out!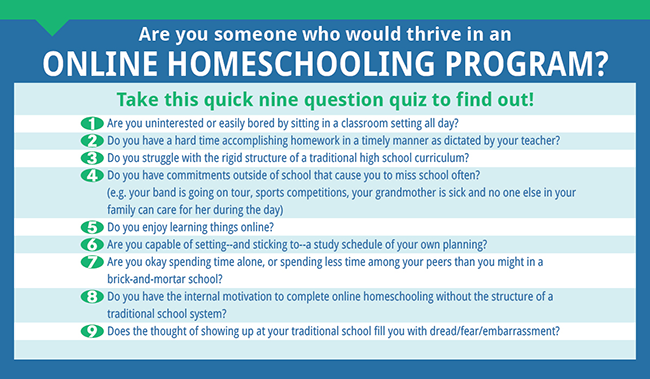 If you answered "yes" to four or more of the above questions, then you might be better suited for earning your high school diploma with an online homeschooling curriculum. Next steps would be to talk to your parent(s) or guardian(s) about seriously considering an online curriculum as an option. You can find information on the James Madison High School general diploma and college prep diploma to help better inform your decision. Or feel free to call us at 1-800-349-6861 with any questions.
Already know this is the path for you? Enroll online now!