This month we spoke to Leslie Retchko about her role at James Madison High School and got to learn more about her.
What do you teach at James Madison HS?
If you were not a teacher, what would you do?
I only ever wanted to be a teacher.
What is the one important life lesson you'd like your students to know?
Take some time to make goals. Where do you see yourself in one year, in five years, in ten? Next, write down what it is going to take to achieve those goals. Finally, do the work it takes to accomplish your goals. Be the architect of your life!
If you could meet any historical figure, who would it be?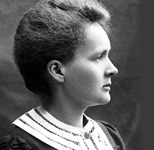 Madame Marie Curie – her life was amazing! She was a Polish born physicist and chemist who pioneered research on radioactivity in the early 1900's. She discovered two elements, polonium and radium. She was the first woman to win a Nobel Prize, the only woman ever to win the Nobel prize two times, and the first person to win the Nobel prize in multiple sciences (chemistry and physics)!
If you were to create a slogan of your life, what would it be?
I would use the slogan my mom always said, "Can't never could".